Weather forecast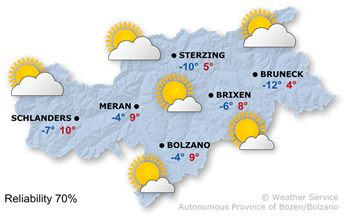 A weak cold front will reach the Alps in the evening.
Mostly sunny weather in the afternoon, in the North increasingly unstable with light snowfall on the border to Austria in the evening. North foehn in some valleys.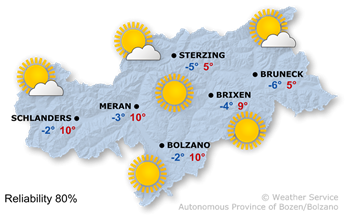 High pressure with northerly currents over the Alps, stable conditions.
On Tuesday sunny weather in the whole region with some clouds towards the evening.
2023/02/01
2023/02/02
2023/02/03
2023/02/04

2°/10°

-8°/-1°

0°/7°

-7°/0°

2°/10°

-7°/0°

3°/10°

-5°/0°

70%
70%
70%
70%
Sunny weather on Wednesday in the South, changeable in the northern parts. On Thursday more clouds with snowfall in the northern parts of the region. Less snow showers towards the South. On Friday weather improvement. Sunny in the whole region on Saturday.