Weather forecast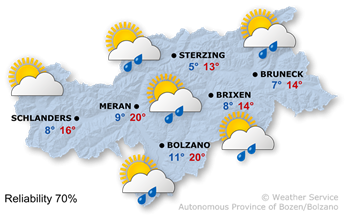 A cold front will cross the Alps.
A mix of sun and clouds. In the first half of the day some rain showers will move through, in the afternoon only along the main crest some rain is still possible. Föhn winds in the northern valleys.
2022/09/28
2022/09/29
2022/09/30
2022/10/01

11°/17°

0°/8°

11°/17°

4°/9°

11°/17°

5°/11°

10°/18°

5°/11°

70%
70%
70%
70%
On Wednesday mostly overcast with only some sunny spells. Also on Thursday many clouds, in the afternoon and evening rain showers. On Friday the weather remains unsettled, only some sunny spells and rain showers. Mostly cloudy also on Saturday.